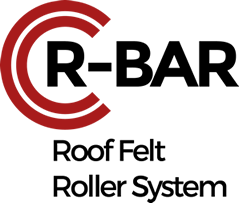 A commercial grade flat roofing system, designed by roofers and hand built in the UK using British steel.
Learn More
Buy Now
Designed By Roofers
Frustrated by products currently on the market, we believed there must be a better way – so we invented it!
Quality Materials
R-BAR's Handle is crafted from high quality heat resistant steel and our rollers are made 
lightweight aluminium.
Used By Roofers
You'll find us & our colleagues using the R-BAR system on all of our jobs. Once you do, you'll never go back.
Guaranteed
We offer a 12 month warranty on the workmanship of our products.
Made In The UK
Each and every R-BAR product is manufactured, assembled and dispatched in the UK.
Better Results
R-BAR's Kick Roller & Handle Roller give you better control of your rolls, resulting in less material wastage and tighter seams.
Kick Roller
R-BAR's Kick Roller is made in the UK from high grade aluminium. Fabricated in Lancashire, it's built to last and designed for commercial use.
Sliding a felt roll into the slot allows for improved handling and control.  Buy now.
Handle Roller
Designed to be used with R-BAR Handle, the Handle Roller offers the same benefits as the Kick Roller with the added plus of being built ready to fit the Handle.
The Handle & Handle Roller can be bought together or simply buy the Handle Roller separately with the knowledge that you can upgrade with ease at a later date.
Handle
The R-BAR Handle is compatible with the Handle Roller and is made from powdercoated high grade steel.
It provides the ultimate control when applying felt for anyone from apprentices to experienced roofers and everyone in between.
Faster
Time is money – whether its yours or your clients. Once you load up the R-BAR roller you can push out rolls with a new level of confidence and at greater speed than you have before without sacrificing your quality of work.
Tighter Seams
With extra control comes the opportunity to create overlaps like never before. Your seams will be straight, tighter and more resilient. You'll be a happy roofer with happy clients.
Save time, save money
Work smarter, not harder. With the R-BAR roller system you're now completing jobs more quickly and you're no longer losing money to errors or excessively overlapping seams.
Improved Accuracy
The groove of the R-BAR keeps your felt role in place. The extra control it gives you will surprise you from the moment you push for the first time. Feel the roll go where you want it.
Less wastage
With R-BAR you will get even pressure across your rolls, meaning a full bond every time and with every roll.
Your shoes
If you were still kicking a roll along then admit it, you've probably scorched the front of quite a few pairs of boots by now. We're not ashamed to admit that we've worked that way before, but never again after experiencing R-BAR.
Kick Roller
+ shipping £10
The standalone R-BAR Kick Roller designed to work alone!
R-BAR Complete System
+ shipping £25
The complete system includes both the high grade steel R-BAR Handle Roller and the specially designed, lightweight aluminium & powdered coated R-BAR Handle!
Handle Roller
+ shipping £10
The standalone R-BAR Handle Roller designed to work alone or with the R-Bar Handle!
Solo Handle
+ shipping £20
The standalone R-BAR Handle!
Weighted Handle
+ shipping £25
The standalone R-BAR Weighted Handle!
For enquiries or to order multiple units…
Office &
Darren Johnson:


01704 211634




07938 797288


Dave Curtin:


01942 571911




07967 729991


Geoff Green:


07957 457118

R-Bar
Unit 3 Faraday Close,
Miry Lane Industrial Estate
Wigan
WN6 7TJ
R BAR ROOFING LTD
Company Registration Number 12394321
Head Office – 31 Churchgate, Southport,
Merseyside, PR9 7JH